One of my best friends from High School and his wonderful wife are visiting.  When I got a text from Lisa on Thursday letting me know they'd be here Friday, it made my day!  We get along so well with Rial and Lisa, and it's nice to have such an effortless friendship.  No extra planning goes into our time together.
They came bearing gifts, and it feels like Christmas in our home.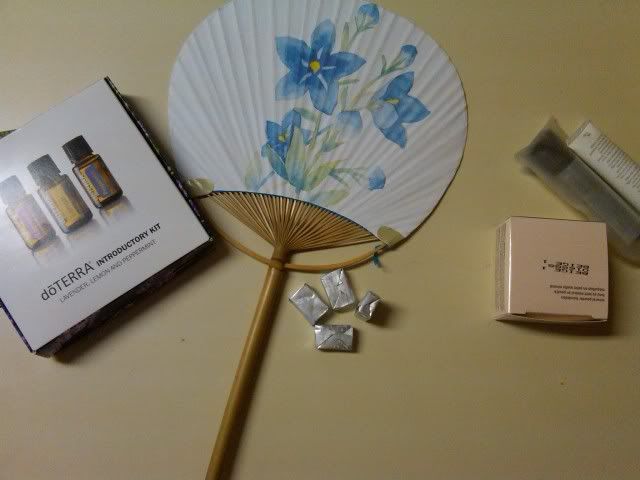 All of these gifts are smoking amazing, and I couldn't even fit the zucchini they gave us in! Zucchini is my favorite garden treat, and my zucchini plant was killed by the wind. I planted another one, and it's growing nicely. Maybe in a few weeks we'll have some of our own, but for now… I'm excited about having one on the table!
There's some Mary Kay Mineral Foundation.
PS: I can't seem to say, type, write, or hear the words "Mary Kay" without busting out into this song.

"My grandma is awesome."
There's some doTerra oils that I've had my heart set on forEVER, and now here some are… in my lap… just like that! The joy is too much. TOO MUCH! I keep smelling them and smelling them and smelling them. Wonderful, beautiful! Perfection!
They brought back a fan and some candy from their trip to Japan -isn't that amazing? Rial served his mission in Japan, and he recently took his wife and parents back to visit with him. That fan is going up on the wall soon, and that candy isn't going to last past 3 pm today. I can already tell. Also, every time I look at that fan, I'm tempted to do my best June Carter impression, "…behind my Jay-pan fan."
While they were here, we were able to go see my mom's newest baby. I'm not talking about my big nephew. I'm talking about a little baby calf. I didn't snag a picture -that'll have to come later. My mom is the queen of orphaned calves. She nurses them up, and we all treat them like our family pet. They love us back clear up until Branding Day. Then they see our true colors.
After petting the new calf affectionately named "Didder," we headed inside where my Mom busted out a bag full of old Santa letters. She saved all the letters we'd written over the years.
Here's one of my first:


A "TT," it must be mentioned was what I called Tiny Teddy Bears. My brother had one and I wanted one for myself in the worst possible way. And I got one. Santa always made my dreams come true.
This one was written by my brother, Steve.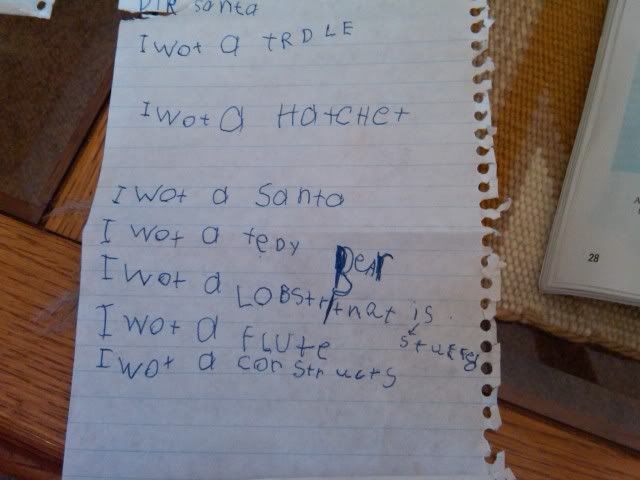 A "Trdle." It's seeping with cuteness.
This is my oldest brother's Santa letter. I love it for so many reasons, one of which is that is has both my mother's and my father's handwriting.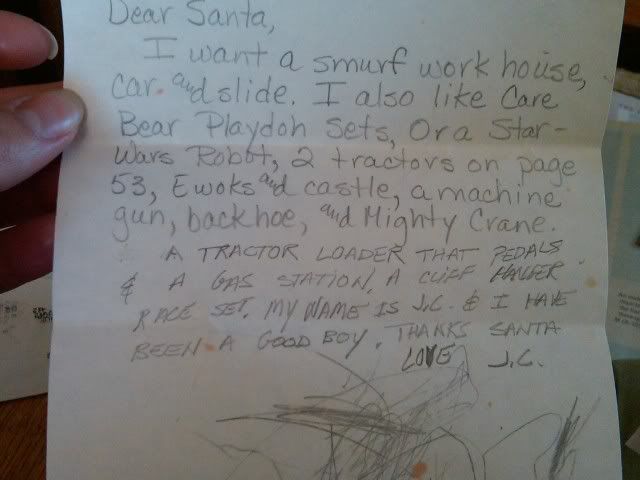 Also, I love that he asks for a Smurf workhouse and Care Bear playdough AND then he asks for a machine gun. JC's letters were some of the finest.
JC, it should be mentioned, is the father of my nephew who I haven't been able to visit on account of my kids having slightly runny noses and I'm afraid of infecting The Big Baby.
Anyway, my mom saved the best Santa letter for last. It's so angelic -so perfectly angelic.

My sister accused me of aggravated brown nosing.
I asked my mom if he brought me a halo polisher.
Now I'm off to celebrate the 4th in Smalltown, USA. There will be pictures and hot dogs and maybe a few face paintings.
Enjoy your weekend, Patriots!