I just spent a few hours with the amazing youth that I teach at church.  We had a party that included lunch and -of course -DESSERT!  The party had a country girl theme, so I wanted to keep the dessert something country feeling.  While I was planning the party, I remembered something I had heard about a couple of years ago: baking brownies in mason jars and sealing them.
PERFECT!
I'm a big fan of Mason jars, and I just can't get enough of the wide-mouth shallow jars!  I keep a few on hand because they're so pretty, and they are perfect for this.
Here's a affiliate link to the jars I use!

All you're going to need is about 9 jars (give or take) and a brownie mix.


Mix up the brownie mix according to the package instructions. Preheat the oven to 400 degrees. Sterilize your jars (some people boil them, but I just wash them with hot soapy water, rinse them in hot water and then dry them). GREASE the insides of the jars -I used PAM. Fill the jars 1/2 full with brownie batter.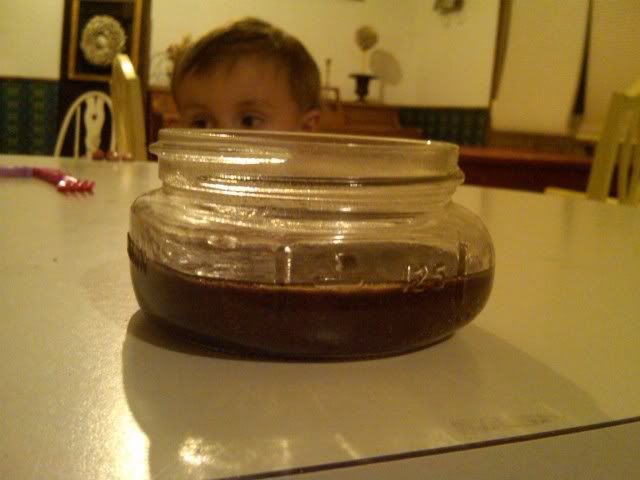 That's my son. He was dying to get his hands on some brownie batter. Put the jars on a cookie sheet and bake them for about 30 minutes (mine were done in about 25 -keep a close eye!).


While they're in the oven, start some water boiling on the stove top (I use a small frying pan -the kind you use to cook one egg in) and boil the lids.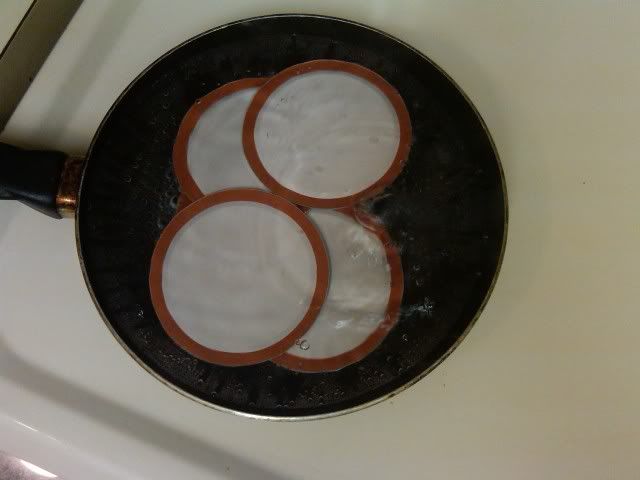 Pull the lids out of the water. I love my handy-dandy magnetic thingy.


Place the lids on the hot fresh-from-the-oven jars and screw the bands on. I had to carefully pick each jar up with a hot pad and then screw the bands on. Be very careful! They're so HOT!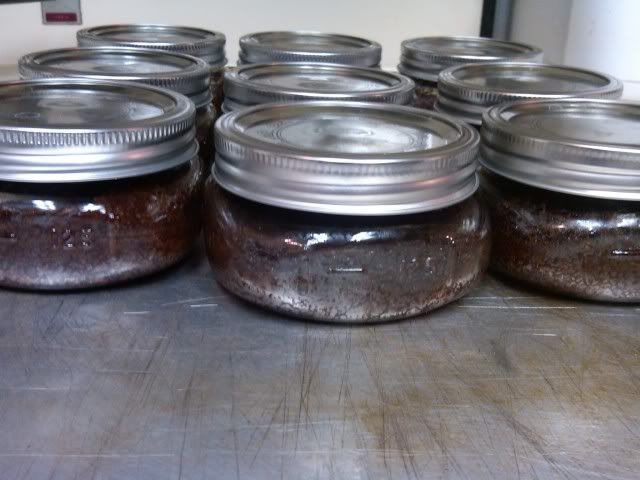 As the jars cool, they will automatically SEAL and the brownies will keep on the shelf for up to a year! Not like brownies ever last that long at my house. They're gone within the week (and by "week" I mean three days. tops).


I tied raffia to the lids and put them next to a bowl filled with lentils. I put forks poking up out of the lentils, and the girls LOVED them! It was fun to watch them all eat out of their own personal little jar. After their brownies were gone, we washed their jars and filled them up with the butter they made that morning and they got to take it home.
Very Important Note: This recipe can be used with bigger jars. This recipe can be used with boxed cake mixes following the same instructions save one: decrease the oven temperature from 400 to 350. DO NOT frost the cake or brownies before sealing!!


These make for GREAT gifts and they ship easily (so long as you're careful about packing glass). Missionaries love them. Military personnel love them. Visiting Teachers love them. Husbands love them. Women love them. Children love them. If you want my address to send me some, I'll willingly oblige.