We spent Thanksgiving with my husband's family, and it was wonderful!  It was very small, and the food was (as it always is) SO good.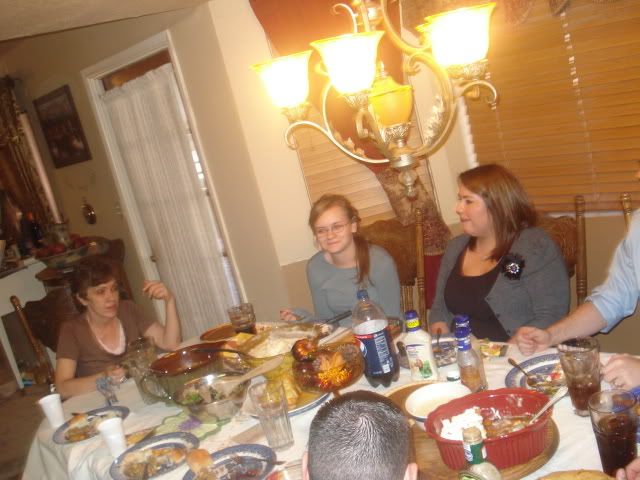 I couldn't resist snapping some close-up pictures. The subjects were just too wonderful.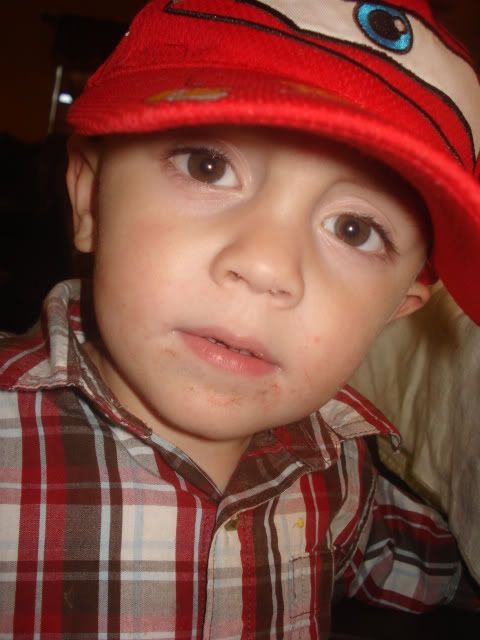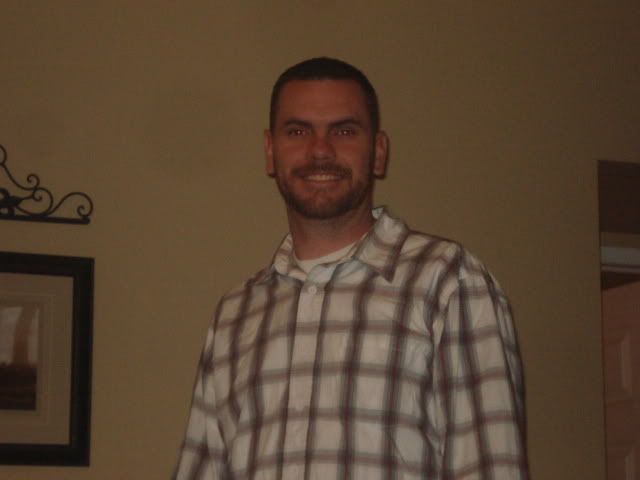 That pup, by the way, is looking right at the Thanksgiving spread on the table.
My daughter was getting impatient for the meal to start and her grammy gave her a deviled egg. She was thrilled beyond belief and brought it to me announcing, "Mama! Look at this Humpty Dumpty Grammy just gived to me!"
I guess as long as he can't be put together again, we might as well split and share the spoils.
A few snacks here and there weren't enough to pacify her, and I was happy when she crawled underneath my arms to have me read "The Polar Express."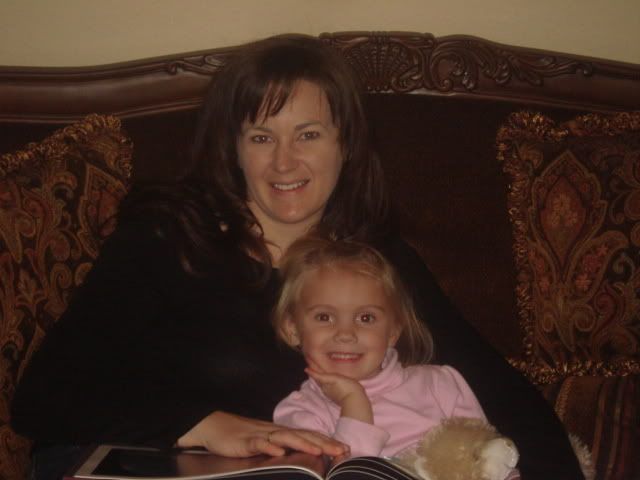 We enjoyed a full feast together and tried diligently to talk about things we were grateful for, but it didn't go over too well.
It turns out the oddball things my husband is grateful for aren't heartwarming, but they ARE conversation starters. We got off the subject easily, tried to return to it constantly, and enjoyed our meal thoroughly.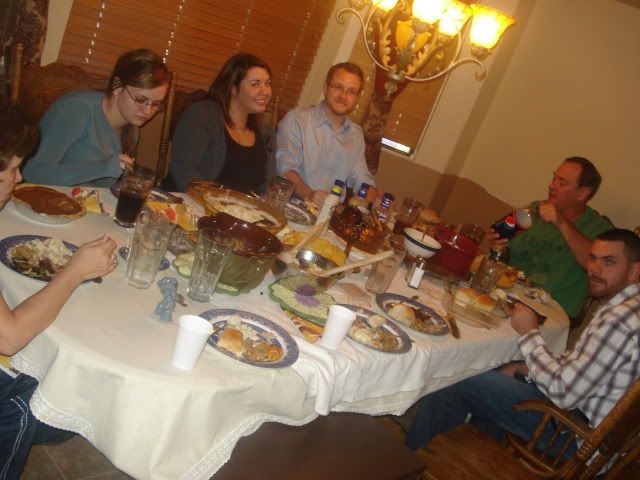 After dinner, I happened to glance at a flier and notice that Bass Pro Shop was open. I've been on the look out for red heel socks, and I thought they might have some. I went to round up my kids to take them with me because SANTA was there, but the turkey had taken it's toll on one of them.
But the rest of us packed up and made the short drive. Our first stop was Santa.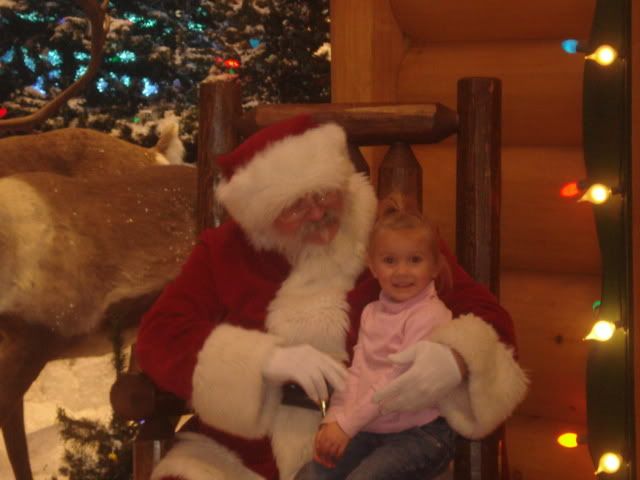 He asked her what she wanted for Christmas.
She said, "A DDD player."
Thank goodness "santa" has an extra one all boxed up in the closet!
As we walked around the store and from thence to Michael's where I bought YET MORE cinnamon scented pine cones, I got a weird feeling. I watched the crowds of people flock around. I gawked at the shoppers lined up outside of blackened store windows, and I almost choked on the words "Happy Thanksgiving" as I checked out at Michael's. It felt SO WEIRD to say that to a cashier.
As we drove home, I remarked to my husband that I'd never again shop on Thanksgiving. I then spent the next few minutes boring him with the tedious details of my childhood Thanksgivings in the country. I didn't even KNOW the day after Thanksgiving was a huge shopping holiday. In my mind, the day after Thanksgiving was the day Dad and the brothers left on their two-day round-up, and the day I stayed up and baked with mom. Mom always made a real gingerbread house, and I stood guard, snacking on leftover bits of gingerbread and candy. Our little town slowed down (even more so. ha.) for Thanksgiving Day and nothing was open.
I then told him that going out and shopping on a day that was set aside as a day of Thankfulness seemed so… so…
I fished for the right word, and finally came up with:
irreverent.
My husband nodded in agreement and spent the next few minutes boring me the tedious details of his big-business-tyranny rant. He was 100% right on all accounts, but I've heard it before. Many times. Just like he's heard me talk about my childhood Thanksgivings before. Many, many times (over).
The day after Thanksgiving, we came home. I knew my Dad was gone on a round-up and I knew my mom was making her gingerbread house. My mom gradually decorates the house after Thanksgiving, but the tree doesn't go up until December 13th, my brother's birthday. But WITHOUT FAIL, a gingerbread house is made and assembled the day after.
Since 2005, I've been making my own gingerbread house. This year, I lost a screw in my head and made four gingerbread houses. One is a small love shack, and the other three were even smaller -perfect for toddlers to decorate. We spent yesterday baking and putting them together, and I thought warmly of my mother as my kitchen turned from chaos into utter mayhem.
But as I watched my mother's grandchildren (I invited my niece over) decorate their little houses, my heart just filled to the tip-top. Soft Christmas music played in the background, and the house was flooded with the scent of freshly-baked gingerbread. There was no arguing or fighting. There was only soft giggles and lips smacking and tiny little chatters.


I texted the above picture to my mother and when she called to thank me for it, I said "Look what you started!"
When I think of my holiday memories, I always think of my mom's gingerbread house. It was unique to our house, and we looked forward to it every year.
Something else I loved about my mother's decorations was her Nativity set. It wasn't big and fancy. It was small and plastic. She liked it that way because then all of her kids could play with it without hurting it.
None of us could have anticipated that my little sister would come and along and repeatedly throw one of the wisemen in the trash because he was a "bad guy" but OTHER THAN THAT, we really couldn't hurt them.
When my husband and I were first married, we used a WalMart gift card we'd received as a wedding present to buy our meager holiday decorations. The only Nativity we could afford was really small and not pretty at all. It was all of $3, but it served it's purpose for us that year.
and the next year.
AND the next year.
AND the next year…
Finally, last year I was eaten up with guilt. We needed a more reverent Nativity Scene. I vowed that this year would be the year that we'd get one. I've been shopping for one for a long time and couldn't find "the one." When I did the grocery shopping last week, I had enough money left over to buy a $20 set at WalMart. My hopes weren't high that I'd love it, but I was determined to set something up this year.
I had to buy a few animals to go with it because it didn't include any, and it doesn't have a Shepard either, but that's okay for now.
When I came home, I eagerly cleaned the house and dusted the top of the entertainment center, I pulled the Nativity Scene out, and I was MORE than pleasantly surprised! The pieces are good sized and beautiful!
My only nagging regret (Shepard aside) was that it was so high up that my children couldn't play with it. I shook it off and remembered that on top of the fridge I had a teensy TINY set that my grandmother had given me a few years ago. I pulled it out and the kids had a great deal of fun with it. In fact, baby Jesus has been pocketed and taken on a few field trips without my knowing.
On Sunday, I made my way to our storage unit and got all of our Christmas decorations out. I sent our old three-foot tree with my little sister so her college house could have a little tree all their own (shabby as it is), and I popped open our biggest plastic tub to find a world of merry and bright.
Mistletoe!
Stockings!
Hanging Holiday Signs!
Ornaments galore!
And there, on the very bottom of the tub… was a brand new Nativity Scene that I had purchased on clearance last year after Christmas.
And COMPLETELY forgotten about. I pulled it out and laughed and laughed and laughed. As I unwrapped my decorations, I found my dilapidated Nativity Scene from our first years as a married couple and family. I found a beautiful Willow Tree Christmas Ornament that depicted Mary, Joseph, and Baby Jesus. And I watched in pure joy as my daughter opened the brand new box of porcelain Nativity people and began to stage them. She rearranged them. She rearranged them. She rearranged them.
She gave them voices and plot lines and all manner of adventures. A few times, the wisemen ended up on the roof of the manger scene. Baby Jesus fell out of his manger and the donkey started to talk!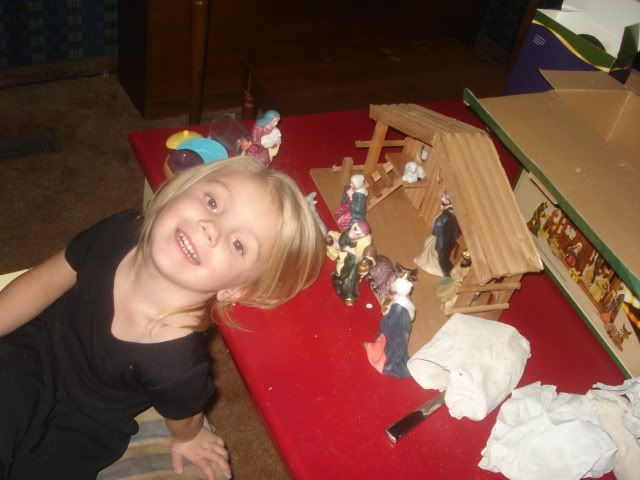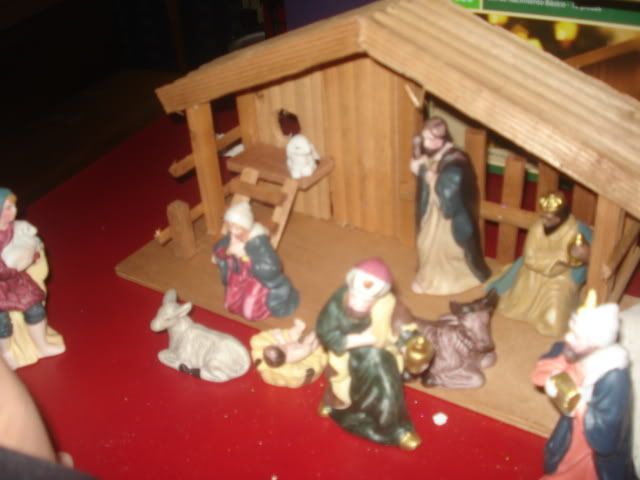 My son followed her lead and began to play with them as well, and as I glanced around my house I saw a teeny TINY Nativity scene. I saw a dilapidated old Nativity Scene that was well used and not at all pretty. I saw a brand new beautiful Nativity on top of my entertainment center. I saw a decoration depicting Joseph, Mary and Baby Jesus. I saw the Nativity felt hand puppets I'd made the day before.
And I saw my children, side-by-side, playing with a very breakable Nativity Set to their heart's content. I realized that my house was now fully equipped to take on the Holiday season, and I breathed a sigh of contentment.
And then I saw this.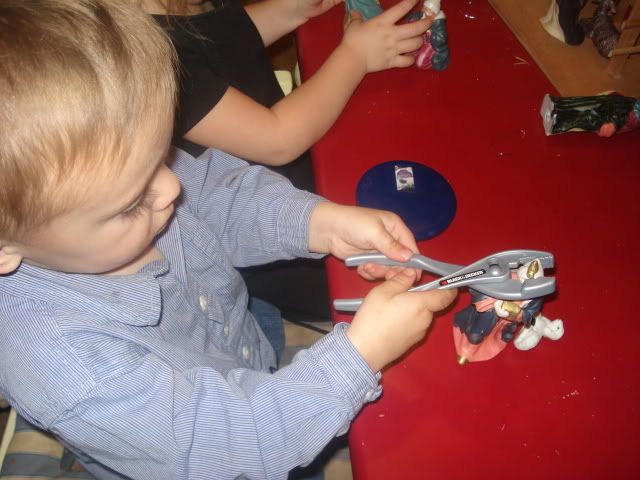 It turns out that being irreverent?
Hereditary.