I usually post in the morning, but today I was busy from Wakey-Wakey until… just now. Dad promised the kids yesterday that he would take them to see two new baby horses this morning, and Lacy was absolutely DYING.
"Mom," she said, cornering me as I did my make-up, "This seeing the horses is taking a LONG time."


She cooed to the filly, "Come here… that's right… come here…"


She named that little girl, "Giselle." (Didn't see that coming, did ya?)
But there really were TWO baby horsies.


While the kids were playing with the horses, grandpa gave them each a packaged Rice Krispies Treat.
"Here's some Doggy Doo Doo," he told them, in all seriousness. And they believed him. In all seriousness. I haven't taken the time to teach them "doo doo" and "poo poo" are the same thing. I've been too busy shaping their minds with deeper, more intelligent things like "glue is not for windows" and "forks don't go on faces."
I made a quick trip to the city today, and as I was in the middle of Sam's Club's food court, Lacy blurts out, "MOM! TRENT IS EATING MY DOGGY DOO DOO!"
I moved it, man. BOOKED it.
Within .2343243 of a second, I was on the other side of the warehouse! On the other side of the warehouse, there happened to be the CUTEST little old man you've ever seen (think "UP"). He was wearing suspenders, for crying out loud. He was also short. VERY short.
"Dat guy just has a baby in hiz belly!" Trent cried out.
Again, I booked it outta there, chattering away, "Oh, babies in bellies? Yeah, Neena has a baby in her belly. And Darah… let's talk about THAT!"
I prayed I'd never see the man again. But I did. I had a long list, okay? Apparently, he did too. This time around, Lacy locked eyes with him, waved, grinned, then turned to me and said, "That little tiny guy is SO funny!"
Did I mention that Lacy also announced to the entire produce section that she forgot to put on her underwear this morning?
And -as if the trip wasn't awesome enough -I had to take gum away from them.
That they found.
Under.
The.
Table.
They couldn't figure out why I wasn't proud of them for sharing the gum they found.
Under the table.
Excuse my random abstract poetry form, but it gets my voice across. Can you almost hear how I'm about to ralph all over my Lappy? Kids…
The rest of the shopping day (I'll spare you all of the details suffice to say: the rest of the trip followed suit) went something like this: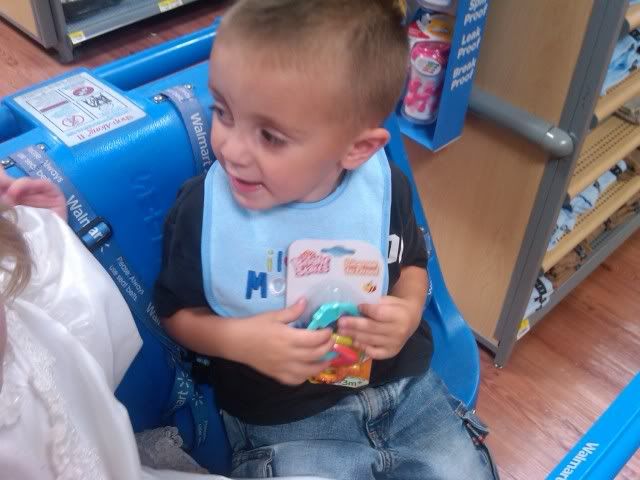 See that bib? That unpurchased bib? Yeah, he tore that off the package before I could say, "Hold but don't play with."
When we got home (PS -I'm never going to the city again unless I have hired help sitting passenger), we hurried and unloaded the car and then got everything ready for the baby shower I was helping host tonight for this lovely lady:


Okay now.
I've never hosted a baby shower before. I was nervous, but the Internets is overflowing with amazing ideas! I wish I was one of those people who can pull off amazing parties with all of the details just so, but I'm one of those people who doesn't have a table cloth until her 4 year old daughter haphazardly throws some scrap fabric onto a table and says, "I helped!"
And I say, "That works! Thank ya kindly, miss."
The banner, made using fabric scraps (tied together) and clothes pins: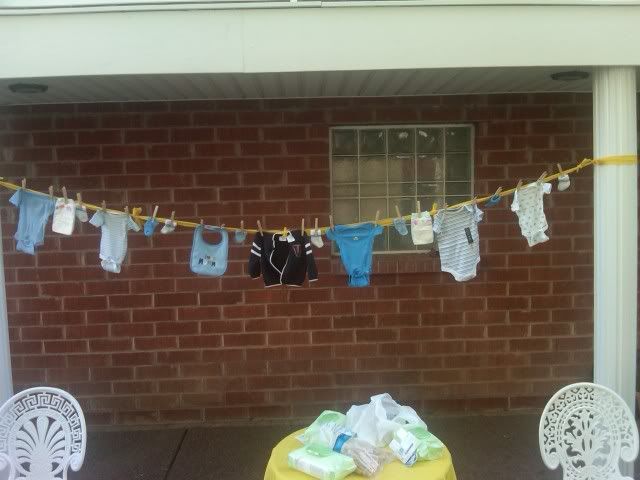 My favorite piece of the banner was scored at Goodwill. Is that bad? Giving a gift from Goodwill? I think maybe it MIGHT be, but not when it's THIS adorable:


Varsity, anyone?
For the guest book, we had people write on a piece of white flannel. I'm going to finish the edges for her so she'll have a blanket for the little guy:


There was a table with diapers on it. We left markers out for people to write messages on them (thanks, Neena! I totally stole this idea from your shower):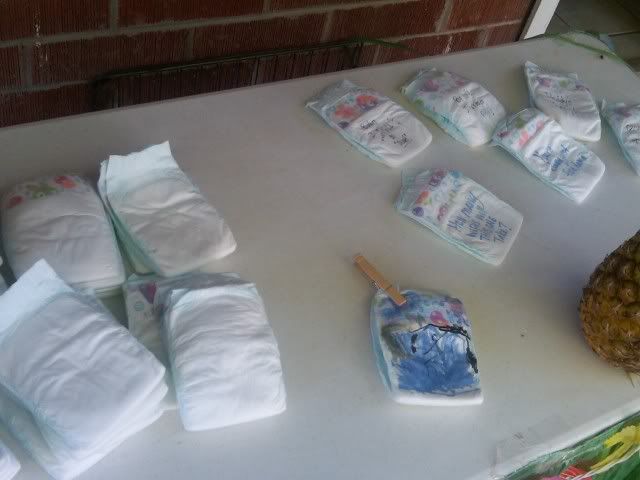 So many cute messages:


I drew a target on one because, you know…
Here's my little candlestick/plate creations! I made them specifically for THIS occasion, and they worked great!


See that scrap fabric underneath? My daughter inspired that. I piled peanut butter M&M's on them. I also filled a baby bottle with 125 green, yellow, and brown M&M's and whoever guessed the amount of candy in the bottle got to take one of the centerpieces home. My little cousin won -her mom was happy.
Everyone should have a cousin this cute: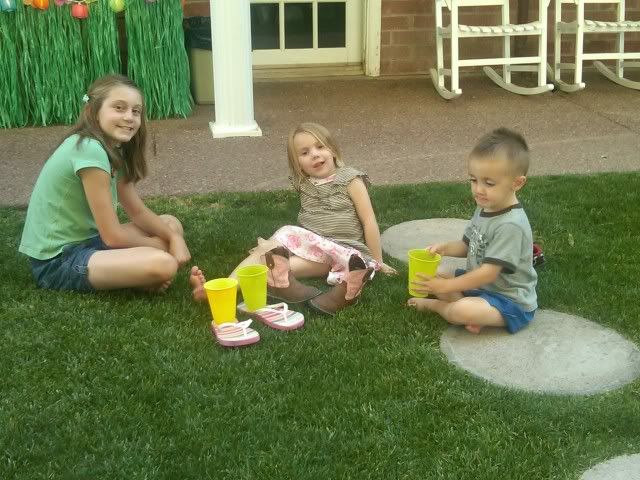 Stop growing, Leigh! Stop!
Leigh's mom (my Aunt Lillian) helped me host the shower. She did all the food, and can I just say? YYYYUUUUUMMMMMM!
She called me this morning and let me know that she was "downgrading" from crepes to cake.


Almond, French Vanilla, and Lemon Poppy Seed, to be exact. And they were topped with cream, fruit, almonds, and buttermilk syrup.


She also slathered fruit skewers in honey butter and GRILLED them. Bookmark that idea, folks. BOOKMARK it. Or pin it. Or something.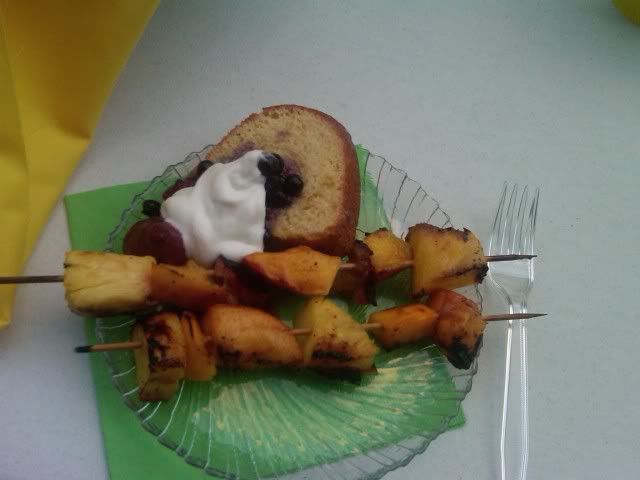 The yard:


It's not mine. Obviously. There's no black thumbs there. There's at least two at my house (one on my right and one on my left).
I have no further pictures of the guests or presents or anything on account of my nephew showing up in all his newborn glory.   I was completely taken in.  He's beautiful, as you well know by now, and I can't help but sorta maul him.
Now, if you'll excuse me… I've got a date with my pillow (if I even make it that far):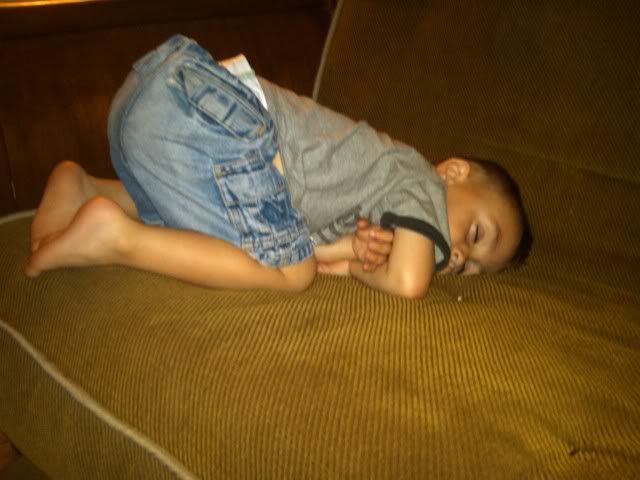 What. Like you've never fallen asleep during family prayers…