As I said, my sister and I spent a big chunk of time in Goodwill on Friday. What is it about thrift stores that I really love? The originality. The idea of junk-to-jewel. The prices. The fact that whatever you buy already has a secret story it refuses to yield.
I've been on the prowl for old wire baskets… the kind that look like they never used to look nice, even when they were new. And while I would prefer something bigger, older and a little more driven over by a tractor, these vintage office baskets do just fine:


I only wanted one for my cookbooks, but I had to buy 4. I didn't mind much because I was able to get 4 wire baskets for $3. Anyway, I needed somewhere to put the giant old school ladle AND canning jar grabber thingy.
That's what they're called, right? That's what my mom calls them.  Either way, I only paid $2 for each of them.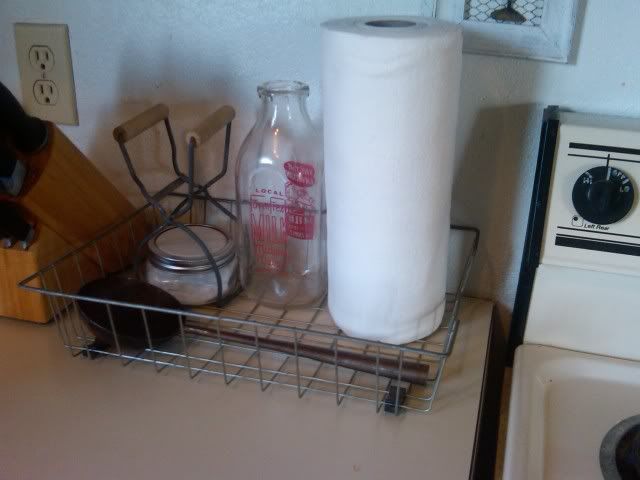 My current paper towel holder is faulty. Every time I go to pull a paper towel from my roll, the entire roll falls from it's place. So our paper towels have a new place in that basket. My husband insists we need one of those standing dowel thingies (to match the canning thingy, no doubt). I told him "no."
I like it THAT way.
He shrugged and decided he didn't want to fight. Because I WOULD have. No dowel! Not today!
He's getting on board (that might read better if I spelled it "bored") with my junk, probably because he sees how happy it makes me.
I bought plates.


Again, $3 for 4 of them. Then I bought a bunch of candlesticks and painted them white.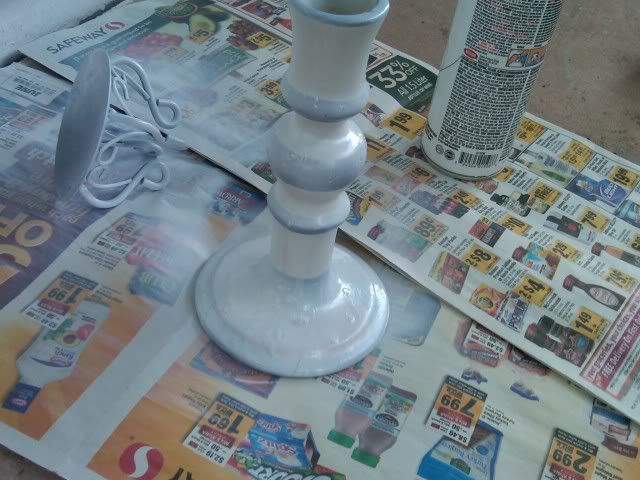 Then I married them to each other, and made a toast to the happy couples:


When I find my E6000, I'll seal them together forever.
Don't you hate it when you see something in a weird place (like your E6000, for example) and you think 'hey, that's weird. I don't remember putting that there. I should put it away.' And then your phone rings or your kids cries or a mouse jumps out at you, and you forget all about it. Until you need it and you can't find it.
Anyway.
Goodwill. Eet's for fun.
I found this sweater:
It was brand new. BRAND new! Ann Taylor LOFT. Their sweaters are normally somewhere around $40. I got mine for $3. Boss!
Bully! Bully!
And because they're my favorite and I want to wear them with everything, including my PJ's…

I paid $10 for these beauties at a yard sale. They were also brand new. Cancel that… they'd been worn once, and Linda (the buyer and first owner) said they hurt her feet. She also told me she hated to part with them. I empathized. I would hate to part with them as well. Whenever she sees them on my feet, she turns fairly green.
The power of those heels is… absolutely amazing. I plan entire outfits around them.
And I'm not really a "shoe" person unless we're talking about red tennis shoes.
There's something so darn satisfying about a really good deal in the form of something you can't live without.  Like classy heels or rusted old ladles or vintage office baskets.
My church outfit today (that I'm wearing in the picture up dair) cost a whopping $13. And $10 of those dollars were my heels. The skirt was a gift from a loving Auntie and I can't remember where the lacy undershirt came from or what it cost. All I know is that it has a giant stain on the front and it NEEDS the sweater as much as I LOVE the sweater.
Harmony.
Do you ever go a-thrifting?
Then you understand why I'm so tickled over the whole thing. My sister is a grade A thrifter. Watching her go through thrift stores is like watching Picasso paint.
"I like these shoes," she'll say and turn them over to see the price, "$8?! Forget it."
My kind of girl.