When I found out we were going to leave girl's camp and come home for the night, I immediately called my husband who was packing to take the kids away with him for the week. I explained the situation to him, telling him I'd be home that night.
"I'll spend all day Thursday at the Stake Center, but I'll be home that night," I said.
"Hmmmm…" He thought for a minute, "I think we're still going to go. The kids really want to see their Grammy and Papa."
"Ok," I said, feeling a little sad. I said my goodbyes to my husband, hung up, and then it occurred to me that I'd have the house to myself for three nights.
And Friday?
Friday I didn't have ANY plans. Or kids.
I picked my phone back up and dialed my sister's number.
"Wanna go to Flag on Friday?" I practically yelled into the phone.
She did! So we went!
One of our favorite things to do it leave early and eat at IHOP. We're passionate lovers of breakfasts.
We waited patiently for our stuffed french toast and cinnamon roll pancakes, passing the time by playing with Ju's change.


"We need to get a picture of us today," I told her.
"Okay," she said.
She's such an agreeable little sister.
Our food was amazing as always.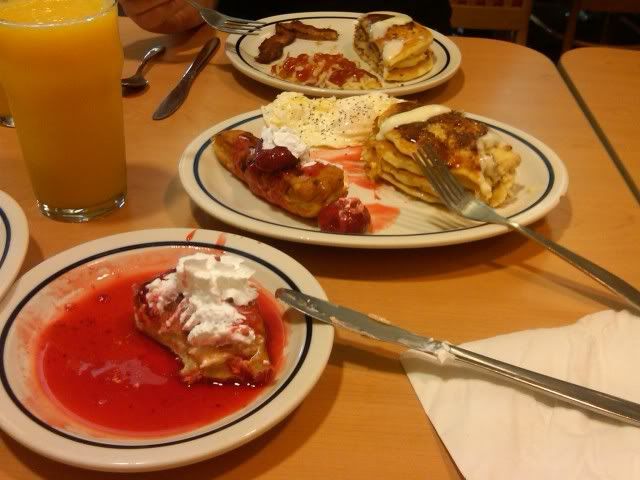 Please note the third plate in the picture. The plate in the middle.
That, sirs, is The Community Plate. Every sister's get together should have one. We started our meal by first depositing half of it onto the community plate. We ate our own food on our own plate, pushed it aside and each delved into whatever we wanted on the community plate.
And we were so fully satisfied with ourselves that we didn't eat lunch until 3 pm. In the meantime, we hit up Goodwill.
I came away with a bundle of junk an joy. So did she. And I'm leaving Saver's for Goodwill. Amen.
We spent a couple of hours walking around Downtown -easily one of the BEST parts of Flagstaff. I always love to stop by a vintage book shop and peruse. I took the opportunity to read some Dorothy Parker poems to my sister, and she found an empty journal.
"Is this one of those journals you write in and someone writes back?"


We are but mere muggles, so we didn't try it. Also, the shop keeper was keeping a wary eye on us.
We stopped by Sally's Beauty Supply for bobby pins and came out with bobby pins AND all of the supplies to make glitter toes.
Then lunch.


There's a tucked away MAGICAL Greek restaurant that my sister introduced me to yesterday. We each were served a lunch special of lamb, greek salad, lemon potatoes, and cucumber yogurt (for dipping). The lamb was succulent, probably because I expected it to taste like cruddy-crud.
Just after our food was served, I saw a man walk in and had to do a double take… he was one of my good friends from 6th grade. He'd walked right by and hadn't seen me, so as we were getting ready to leave, I stopped by his table to say "howdy."
Thank goodness he remembered me. His exact words were, "Your face looks the same! It's just… older."
After lunch we hit up Coldstone.
Have you ever watched two women try to make a decision over ice cream?
"What are you getting?"
"I don't know."
"Well if you get THIS… I'll get THAT."
"Okay, but I don't have to get THIS. I mean, if you don't want it we can totally get something else. It's fine. I don't care."
"Well I don't have to get THAT. Whatever YOU want…"
I won't even get STARTED on how long it took us to come to a final conclusion on stir-ins.

We worked these three in a rotation.
And then we watched people outside while we ate. People watching is a hobby of ours. And our mother's.


And THAT is the best picture I got of "us."
We laughed a little at how we had eaten so much and pretty much only taken pictures of the food we ate, but that's okay. I haven't ever had a day like that since I had my kiddos! I didn't have to BE anywhere or DO anything! There was no timetable, and we just drove around in the sweet, sweet rain and did whatever we pleased.
And I really, really appreciate that.
Because we came home and I made a guess: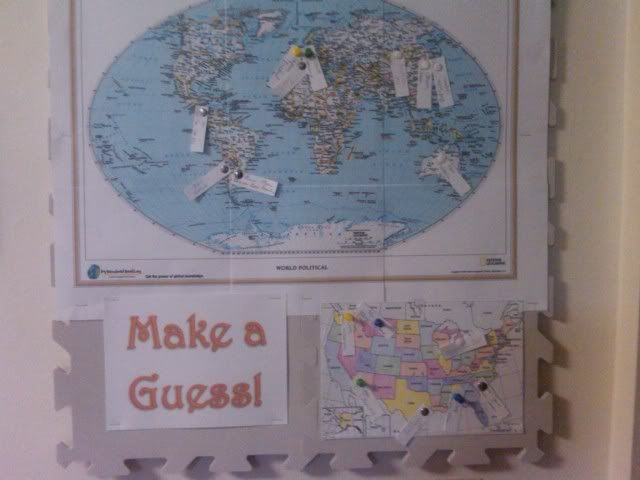 Ju's mission papers are IN! We're all excited, but there's a small (okay, big) part of me that is sorta blind sided by it all. When did she grow up, anyway?
I cherished yesterday… cherished it.
We capped the day off with glitter toes (we also happened to glitter the toes of our nieces) and a half of a Jimmy Stewart movie.

Oh, and hot dogs.
Although, I didn't think to photograph our hot dogs. Fairly uncharacteristic of me, I know.