One day in the spring of 2004, my boyfriend took me by the hand and took off running.  I fumbled behind and had no idea what was going on -mostly because it was raining so hard I couldn't see a thing.
He stopped abruptly and pulled me close.  While I lost track of time, my boyfriend smothered me in the sweetest kisses imaginable.  Rain was pouring down our faces and absolutely drenching us, but neither of us cared.  At least, we didn't care at first.  But after a while?  We were freezing.  It didn't take long for my boyfriend to grab my hand and take off running again.  Only this time, we ran to the nearby gas station and bought two steaming hot cups of hot cocoa with french vanilla creamer added in.
By the way, friend, I'm a lousy addict of gas station hot cocoa with french vanilla creamer added therein.
My boyfriend is now my husband, and he still enjoys mackin' in the rain, which is totally fine with me because I eventually get hot chocolate out of the deal.  Win-win.
HOWEVER, I'm running out of money.  Christmas is coming, you know.  Instead of spending a few bucks on a cup every other night-ish, I hopped online and started googling hot cocoa mixes.
I tried this mix first, and I'm not even going to bother with anything else.  It would be totally pointless.  Now all I need is some french vanilla creamer…
You're Going To Need:
11 C. Powdered Milk

1 C. Confectioner's Sugar
11 oz. Powdered Coffee Creamer
2 lbs. Nesquick powdered chocolate milk mix
4 Tblsp. cocoa powder
1 box instant chocolate pudding mix
1) Mix all together in a HUGE bowl (I used my cake saver, which I've never actually used to save cake)

2) Store in airtight container.
3) Use 1/3 mix to 2/3 water when making hot chocolate.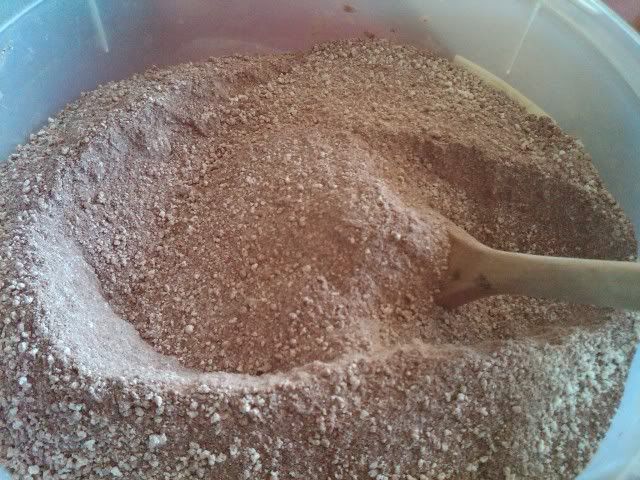 This mix does look pretty rough, but it stirs in really smooth.  If the coarse-looking texture bothers you, try blending it up.  But you really don't need to.
After making and measuring this all out, I figured it makes about 55 single hot cocoa servings.
You can fit about five 1/3 C. in a pint jar, if you're wanting to make this to give as a gift.
It can get a little pricey.  I can't wait to renew my Sam's Club membership -maybe some of these ingredients are cheaper in bulk. This batch cost me about $23.
Still it ends up costing WAY less per cup, so I'm happy.
I put the kids to bed on Halloween and literally SKIPPED into my bedroom to put on my fuzzy monkey PJs.  I made some of this hot chocolate and started watching Arsenic and Old Lace.  I made it through about 15 minutes of the movie.  I woke up on the couch after it was over.
My rain-loving boyfriend had covered me in the warmest comforter in the house.
My hero.