I've always been drawn to the cemetery in my hometown.  As a teenager, I used to jog to the cemetery and walk around it for awhile, studying the names and dates on the headstones.  I always lingered around the family headstones, and I soaked in the quiet solitude that surrounded the area.  It was never creepy or eerie.  It has always just been very peaceful.
Two days ago, I was driving in the general area of the cemetery.  My kids were in the car with me.  They'd been fighting all day long (they're going through a lovely stage), and the thought struck me that we might stop for a few minutes and walk the cemetery grounds.
The first headstone we saw was the one dearest to our heart -Laynee Leigh, my brother's daughter, who had to leave us much too early.  Lacy had questions about Laynee.  Where was she?
"Her body is under the dirt right there," I said, pointing, "But her spirit is with Heavenly Father."  Lacy couldn't understand that, but she wasn't actually all that interested anyway.  After reading her name and admiring the glittery pink headstone, we continued to walk.
"There's great-great grandma," I would tell them.
"There's great-great grandpa," I would tell them, "He was in the army."
"She lived in Seth's house."
"She was best friends with Daddy's great-grandma."
"He was a pioneer."
"She is grandma's grandma!"
And I talked on and on.  At the end of the cemetery there's a plot of graves that has always mystified me.  In fact, every time I've gone to the cemetery I've never walked away without stopping to look at the graves.  I took pictures to share with you.  I also took pictures so I could go home and google the names on the headstones.
It's a family… a husband, a wife, and six children -not one of which lived to be any older than 8.  Her husband died in 1933.  Then she died in 1936.  I've always ached for her.  To have so many children die and then to outlive your husband!  It seems too awful to think about, let alone bear.
Before logging on to blog, I googled the name of the father.
"Sanford M. Porter"
The M, it turns out, stands for "Marius."  His wife was named Nina Malinda Porter.  They moved to a Mormon Settlement nearby (Sunset) in 1880.  Four years later, they moved here.  I found all of this out by reading a short history on a website.  Most of the information, I was SO HAPPY to find out, was taken from their son's journal.
THEIR SON!  I can't tell you how glad it made me to read that they had a child live beyond childhood.
His name was Rulon Ensign Porter.  He was born two years after they arrived in Sunset.  That said, here's who we're talking about: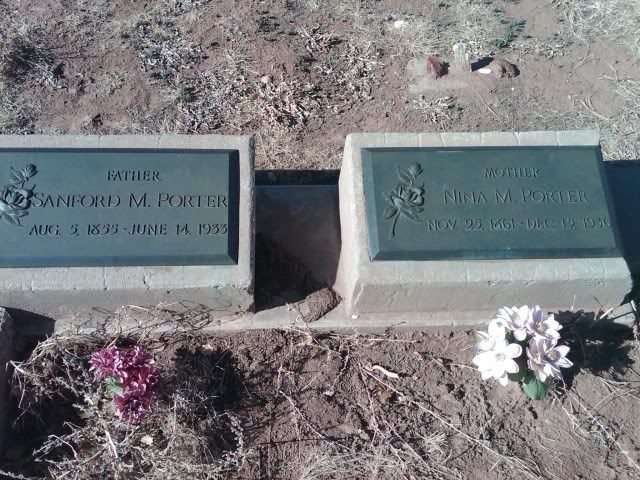 Here's some of their children, not in any order:
Five years old.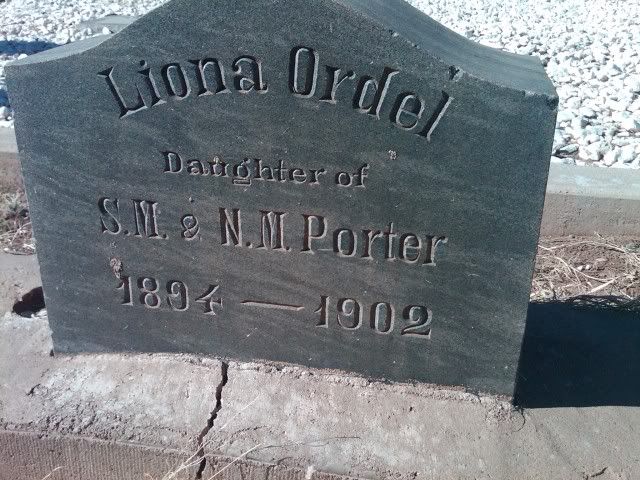 Eight years old.
Myron died the same year as his sister, only he was 6. Was it an accident?  Epidemic?  Two separate incidents altogether?
Infant.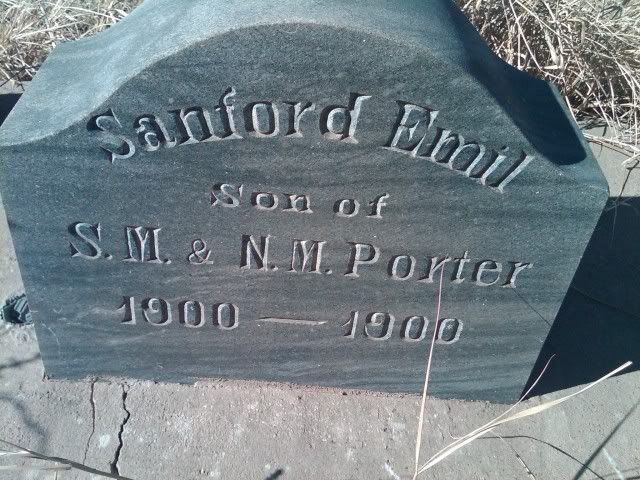 Infant.  Only two years apart.
I can't be sure whether this says 1901-1901 OR 1901-1904.
Can you imagine the kind of faith these people had to have?  The strength?  The fortitude?  Determination?
It makes me so grateful for modern medicine and running water and sunrises and sunsets.  I walked away from the cemetery feeling much like I ever do when I leave the cemetery: I feel a sense of commitment to try harder, to be better, to live up to the standard of faith my ancestors set for me.  Next to the Porter family plot, there's another plot I always stop by.
My great-great grandfather's plot.  He was a Mormon Pioneer.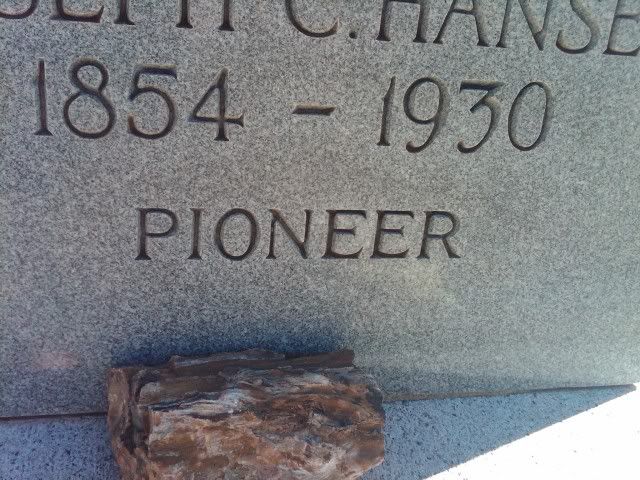 Looking to the past has never ceased to intrigue me. My house is decorated with sentimental family artifacts that I've picked up along the way -things that remind me of where I came from and who I am.
Grandpa's old milk bottles from the dairy he ran. My great-grandmother's unused copper tea kettle. The bouquet of flowers my Dad gave me for Valentine's Day years ago. The bouquet of flowers my husband bought me in the hospital after I birthed his daughter. And old photograph of my grandparents when they were about my age.
All of these items fill me with immense gratitude.
I want to teach my children about where they come from. I want them to know how our town came to be and the people who brought it about. I want them to know where our spirits go when we die and why our bodies go "in da dirt."
I want them to feel safe -to know who they are. They are both children of God. He loves them. He wants them to return to his presence.
I love them, too. But sometimes I have to send them away from my presence. After we drove away from the cemetery, my darlings proceeded to FIGHT the rest of the day. In a fit of desperation, I called Laynee's mom.
"I know it's last minute, but is there anyway I could leave my kids with you for two hours tonight?" I asked. She took them for not just two hours, but 2 1/2! When I picked the kids up, they were much happier. I was much happier.
As we drove home, Lacy spoke up.
"Mom, Laynee is dead," she said.
"Yes," I replied.
"And she is just in da dirt," she said.
"Her BODY is in the dirt, yes," I said, "But her spirit is not in the dirt. Where is her spirit?" I asked.
"In Heavenly Father's belly?" She asked.
My husband and I laughed so hard we could barely drive straight. Well! Babies go in bellies! Laynee is with Heavenly Father. Laynee is a baby. Naturally, she's in Heavenly Father's belly. Naturally.

(That shirt was much nicer before she spit her cough medicine all over it, by the way.)
(Through more research, I found the Porter's had 14 children in all. Rulon himself had two wives [not all at once, mind you], one daughter, and three grandchildren. A list of the Porter's children can be found here in case you're curious.)