"Hand Puppets" was misleading. It's actually "Hand Puppet." As in… one. I made one. I need to make quite a few more, but I've had to change my course. When I started out, I planned on making hand puppets that somewhat resembled Disney Princesses. I decided to start with Jasmine. This is what I came up with.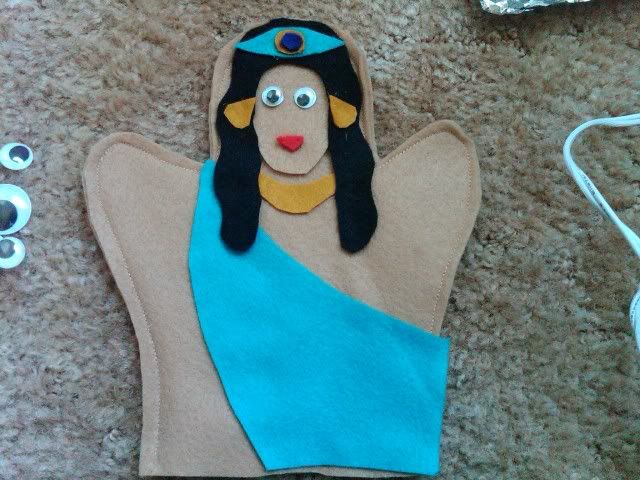 Please keep in mind that I'm terrible at stuff like this. I don't know WHY I think I'm capable of attempting crap like this. As I hot glued the second gogglie eye on, I looked at the puppet and laughed.
She looked a little less like Jasmine and a little more like Potiphar's wife.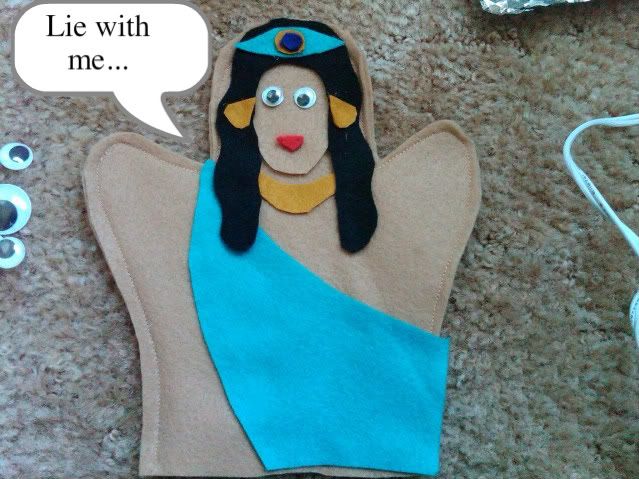 So I picked her up and tried to force her to be Jasmine.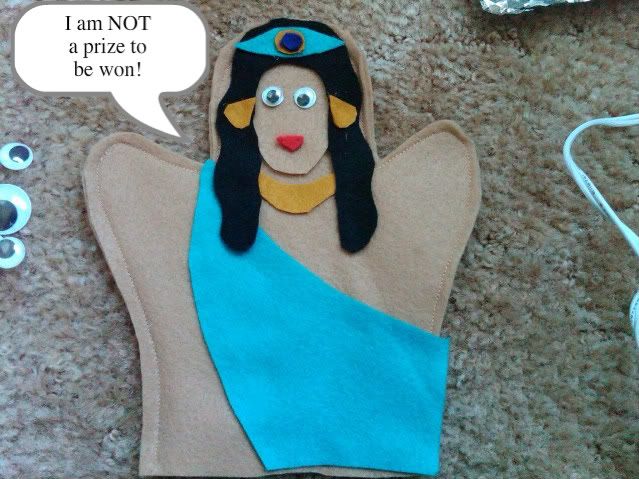 But I really REALLY just wasn't feeling it. I was a little depressed that I had just created a rather less-than-admirable Bible character for my daughter. I guess I COULD teach her a few new stories with puppets.
"Mommy, what does 'lie with me' mean?"
Nothing baby. Go play with your Barbies…
In the end, I decided to simply rename her but keep with the whole Bible theme.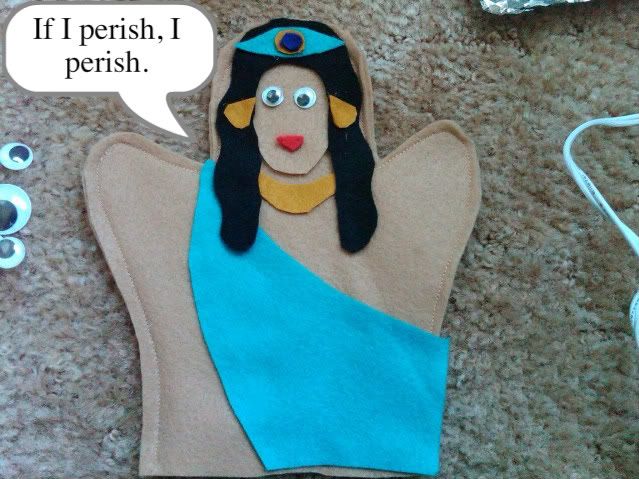 Queen Esther. THAT'S someone we can all get on board with, right? Who should I make next? The King? Her Uncle? The man who is hung by his own gallows? How would one make gallows for a toddler's puppet theater? Pipe cleaners and yarn?
Anyway, as soon as I'm done with Esther's story, I'll probably start on Ruth and Naomi. I COULD go with Moses or Jonah, but the idea of making any sort of animal hand puppet is daunting.
I've tossed around the idea of making a few Book of Mormon hand puppets, but they're a little harsh. For example: is it in good taste to make a puppet sword out of pipe cleaners for Nephi to smite Laban's head off?
What about Ammon and the arms?
Just how WOULD that work in a puppet theater?
Maybe I ought to stick to less-than-worthy princess puppets.
Maybe I ought to bag the idea entirely…