Before there were digital cameras, there was Sears. I remember getting dressed up that day -my sister and I were in coordinating peach dresses and sporting the beautiful turquoise bracelets that my father always made sure we had at least one of.
The boys were in matching bolo ties.
At the time, there were only 5 children. We were all positioned against the studio background and told to smile.
So we did.
The photographer was NOT pleased.
She asked me not to smile too much, so I tried.
"Even less," she coaxed, so I tried smiling less.
"Even less," she continued.
What you're about to see is the results of that. In the first picture I was smiling like my regular self -you can't see it very well, but my nose is scrunched up. The photographer didn't like it. She didn't believe noses SHOULD scrunch, especially not in Sears.
The second picture is me trying my hardest to smile but not scrunch.  You can almost hear a woman's voice saying, "Even less… even less…"


See my Steve behind me? His smile was fine, I guess.
Lucky jerk.
See my Ju beside me? Wasn't she just the most adorable little red head you've ever seen? I just want to pick her up and smooch her… but she's too big now. And she's in Utah.
ANYWAY, I bring this up for one reason only. Check this out:


When first I saw this picture, I noticed my scrunched up nose, and I cheered for the little 8 year old girl who was forced to stifle her scrunch all those years ago in Sears.
We scheduled a photography shoot with my sister-in-law a few months ago. She told us she would be up in this country for a wedding that day, so it would work out perfectly. When it came right down to it, my sister-in-law wasn't going to be able to do both a wedding and our family pictures, so she sent my brother to take pictures for us.
My brother is awesome at whatever he does. I bet if he took up crocheting, he'd master it. No foolin'.
And thank goodness for digital cameras and professional photographers who don't tell their clients NOT to smile. I mean, unless serious is what they're going for: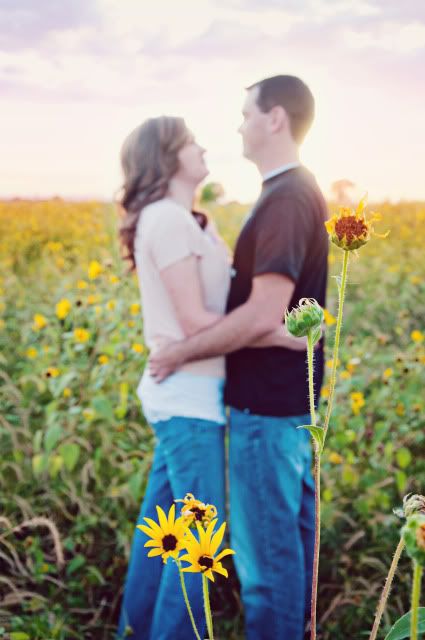 Which we're not very good at.
Kissing, though? Kissing is something we are VERY good at.


My brother has a polaroid camera that takes wallet-size polaroids. Isn't it awesome?!?! I love it! Even better: I got to take two pictures home with me RIGHT away. I think I showed them to just about everyone. I'm working on making a display for them. They're so great!
We sort of had to rush the polaroid portion of the shoot because the mosquitoes were THICK. It was insane! My brother was bravely snapping pictures while sweat beaded down his forehead and mosquitoes buzzed around his face/lens/legs/everything.
If you look at the girl's hand in this one, you can see she's focusing on a mosquito:


Don't you love her big poofy dress?


We brought two outfits to take pictures in. We tried to coordinate in these:


ALL of these pictures were taken on my grandpa's land just outside of town. We ventured down to where he keeps his silage. It was empty, obviously.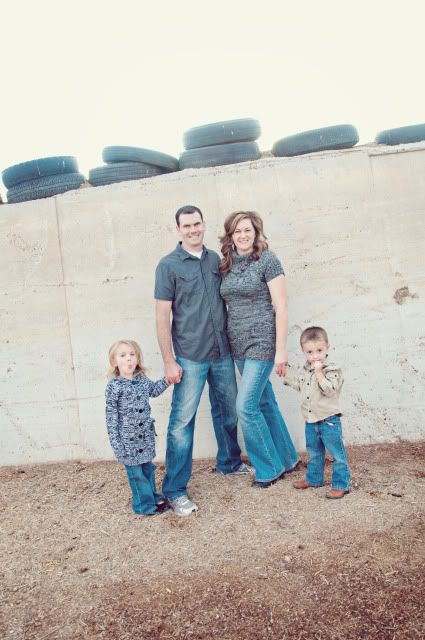 He uses the tires to hold down the tarp that covers the silage. Something in me wants to end that sentence with "in the house that Jack built" but it's probably just because I'm crazy.
Mike gave the kids pieces of the corn stalks and told them they were swords. Look how proud the boy is of his sword:


Did I mention that he's going to be HeMan for Halloween? The Master of the Universe!
I know I don't say it enough, so I'll say it.
I LOVE THIS GUY!


I'm so glad he let me have his babies (even though that isn't exactly what I was saying while I was actually in the process of having them, but still).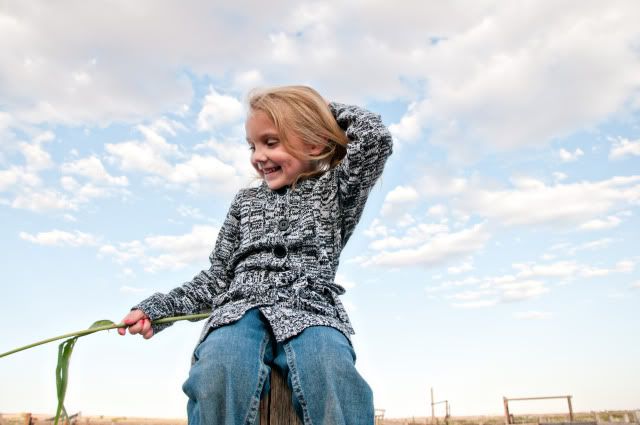 Ah, Lacy.


Ahhhh, Trenton. My laid-back boy.


Everything about this picture is great except for my backside. HOWEVER, I've yet to meet a woman who looks at a picture of her backside after she's had two babies and says "I love it!"


We changed into our "regoolar" clothes for a few more pictures. We took this picture by grandpa's OLD feed truck. I told him we'd used it as a photo prop and he laughed out loud. Then he told me that when my cousin, Sam, was really little he had straight up asked Grandpa if he could have the truck when Grandpa was done with it.
MMmmmmmmmm…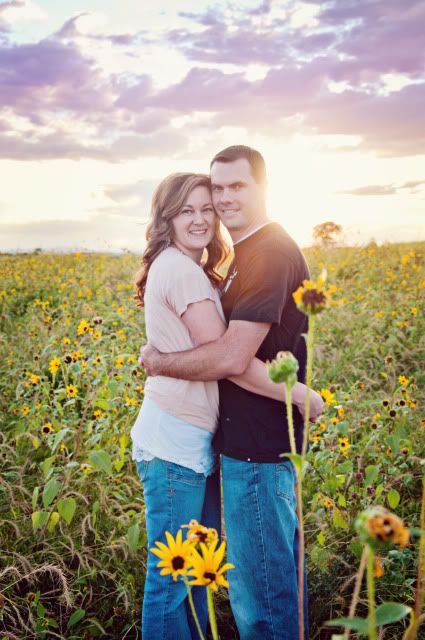 MMMMMMMMMMM…


Awwwwww…


Here we are standing in front of Grandpa's shed.


Have I ever told you that sunflowers are my very favorite?


My husband presented me with a bouquet on Saturday. They're perched on my piana, and they really make my day every time I look at them. I think that's why I was born on August 16th -so I could come down just as the sunflowers were coming out.


I'm sorry. Are you getting sick of pictures? I just can't seem to get enough of them because Mike did such a good job! I love the colors and lighting and their faces:


And I love that my children are allowed to have bucket-loads of personality without someone telling them they were ruining the picture:

I am 100% happy with how our shoot went and with how our photos turned out! Brittany sent Mike with a few props (like the "Deets" banner), and we were able to use a few that we brought (like the gold frame that I snagged for $3 at a yard sale).
Mike and Brit work as a TEAM and they always do a great job.
I've linked up to their site before, but they're always adding more pictures… especially lately because they have been BOOKED!
Click HERE for their main page.
Click HERE for their blog. Feel free to get lost in all of the pictures (especially the Laguna beach and Wright House pictures)!
Thanks again, Mike and Brit! We couldn't be happier!
You guys are the best.