Before I get to my thesis (ha. ha. ha.) today, I've got to share something. Two some things.
#1) Seven years ago yesterday, I said "YES!" to a man down on one knee. He gave me a sexy ring, and I sport it around to this day. My grandma has never, ever lost her wedding ring. When a bunch of the women in the family asked her how she'd managed to keep it for so long, she simply said "I never took it off… bread dough and all!" My husband always cringes when I bake and garden with my ring on, but I insist that the ring is mine and that if he'd like it back… he's outta luck. ANYWAY, like any girl, I woke up on the morning of June 28th, 2004 and ran straight to my best friend's house. I knocked on her door, and the minute I saw her, I thrust my left hand in her face and gushed my entire engagement story. And then I said, "Enough about me. Let's talk about you." And she told me that he boyfriend broke up with her the night before. I wanted to chop my own head off. GAH! Tia, have I ever told you what a great person you are to still be friends with me? Seriously. I've been the worst friend in the world, and she still likes me. I even gave her a black eye once.
#2) Guuuuueeeessssssssss WHAT??????


NEW NEPHEW!
I'm in love, ladies and gents. Love, love, love. This baby is a hearty 11 pounds, and I can't believe that he came outta his mama only 5 days ago. No wonder she couldn't move the last 6 weeks of her pregnancy! He's almost outgrown his newborn clothes. But, MAN, is he adorable. I got my hands on him for a full hour yesterday.


His name is Jens -named after our great-great-great grandfather who was converted to the gospel. Remember when I blogged about him? The good looking military man with all the medals…
And while I was holding and loving on that big baby boy, his sister found a mud puddle outside.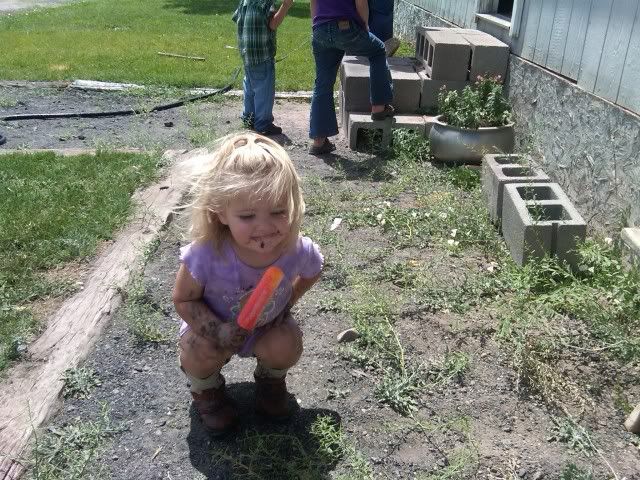 I gave her a bath and then brought her and her sister home with me. And she found a mud puddle at my house. I gave her another bath and a new outfit… and then I kissed her twice-bathed face and played with her blonde curls. Mmmmm.
NOW:
Since The New Year started, my personal health has taken a back seat to other more pressing matters. In the last few weeks, I've been able to get back to my routines. I've set some goals -easily attainable goals -and I'm going to share them with you. Aside from knowing that sharing goals makes them easier for me to reach, my horoscope told me to share my health goals online. How can I NOT do it now? Really.
I've made it a goal to go 12 hours without eating. As in: if I eat dinner at 8 pm, I won't breakfast until 8 am. I didn't expect much from this goal, but I'm amazed with the results! My weight hasn't dropped or anything like that, but I FEEL so much better! I also try to get my heart rate up for 30 minutes every morning before I eat breakfast. Sometimes this doesn't work out, but that's okay. It's happening more often than not, and right now that's good for me.
My brother gave me P90X yoga, and it's an hour and a half long. The first time I put it in, I made it all of 15 minutes. Now I'm up to 30 minutes.
My brother. My brother. If you ever bother to read my comments, you've met him.
He wrote a post last night about his health, and I highly suggest you read it.
One of my favorite health routines is my green drinks. This morning I stumbled onto a blog with an amazing green drink recipe. I can't wait to try it! I'm headed out to go shopping in a few hours, and you can BET I'm getting the stuff to try it out.
ALSO. Before you click on over to her site, I just have to say that her site makes me miles of happy. The design… the music. About half of her playlist matches mine. F'real.
NOW.
CLICK HERE.
I'd love to hear all about your health goals, if you've got 'em. Sound off.