On the 16th, my son turned "fwee." We got him everything he asked for and then some.
We asked him time and time again, "What do you want for your birthday?"
And time and time again, he answered, "Toy Story Cake and big gun."
His Dad knew exactly what gun he wanted, and I took care of the cake. My husband has always been the stellar gift-giver in our family. I try really hard, but it just comes naturally to him. I sent him off to get the boy's gifts, and he kept calling me.
"What about this?"
"Should I get that?"
"What color of…?"
I finally cut him off and said, "You know better than me! Get what you think would be best!"
And so he did.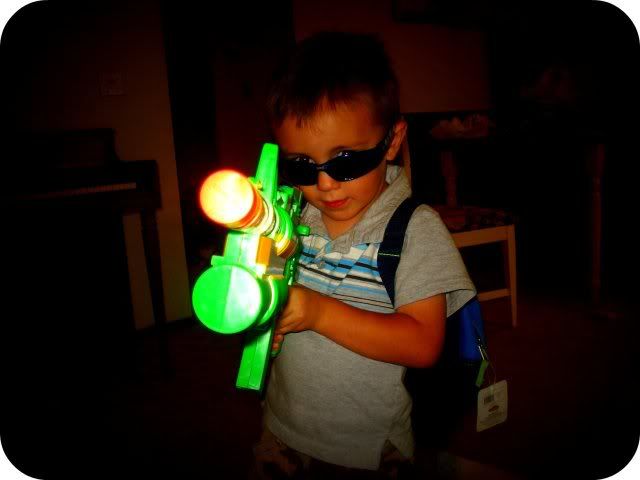 A backpack!
Iron Man sunglasses!
A BIG GUN!
The boy is big into backpacks. He actually slept with that thing on last night. And he's presently clutching it in his little hands.
I'm no master cake maker to say NOTHING of my cake designing skills. I'm not big on fondant because
1) I don't know how to use it.
2) I'm not big on the taste -even the homemade kind.
3) The kids don't like it all that much.
So it was a losing cause. There is a Buzz Lightyear cake pan at Michael's, but I would have had to make sure the cake didn't stick AT ALL to the pan, and I'm pretty much the best at making cakes stick.
You would think all of this would add up to me just BUYING a Toy Story Cake, but no. No, I can't do that.
And it's all my mother's fault.
Growing up, she would make us each a cake for our birthdays. I would sit by her side as she patiently dotted my care bear and Barbie cakes with icing. When she was done with the cake, she would pipe the leftover frosting onto my palm, making stars and faces… it was the best. I remember how exciting it was to SMELL the cake baking, to see Mom's decorating kit on the counter. My children deserve the same. I have a feeling that in a few years, when they're old enough to see the reality of Mom's Botched Cakes (should I trademark that?), they'll BEG for a regular store bought cake. BUT UNTIL THAT DAY… I will bake and frost and eat half of the icing.
Instead of buying a Buzz cake pan, I decided to buy Toy Story figurines and jam into the icing on top of the cake. The figurines, I should note, cost the same amount as the cake pan would have. Isn't that madness?
Also, when I bake layered cakes, I use one cake mix and make three layers. I don't know WHAT kept me from thinking straight. I thought I should make a four layer cake, and because my brain is on some kind of Primary overhaul, I did simple math.
4 layers.
2 cake mixes.
2 layers per mix.
And I didn't realize exactly what I was getting myself into until I started stacking the layers, and then I went… ooooooooops.
Tack one more onto Mom's Botched Cakes!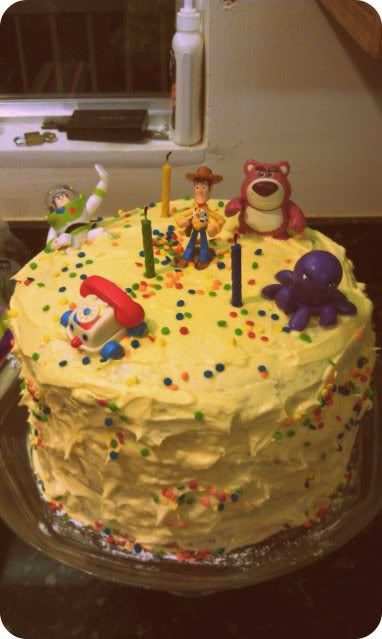 I set the cake on a glass platter, and I set the glass platter onto a glass candlestick.
You all know how I feel about cake platters.


This is what four layers looks like:


One layer of confetti cake, one layer of white cake with blue food coloring. And repeat. I asked the boy what color he wanted the layers to be, and he said:
"Toy Story."
"Ok, but what COLOR of Toy Story cake? Blue? Green? Orange?"
"I want Toy Story."
"Blue Toy Story? Green Toy Story?…" I gently prodded. At this point he literally GRIT HIS TEETH and through clenched jaw hissed, "TOY STORY."
Wowza, he's a regular birthday-zilla.
And speaking of birthdays… we had one a few days ago! A brand new niece! I've been dying to post some pictures of her, and I can't WAIT to see her in person.
Welcome to the world, Olivia!