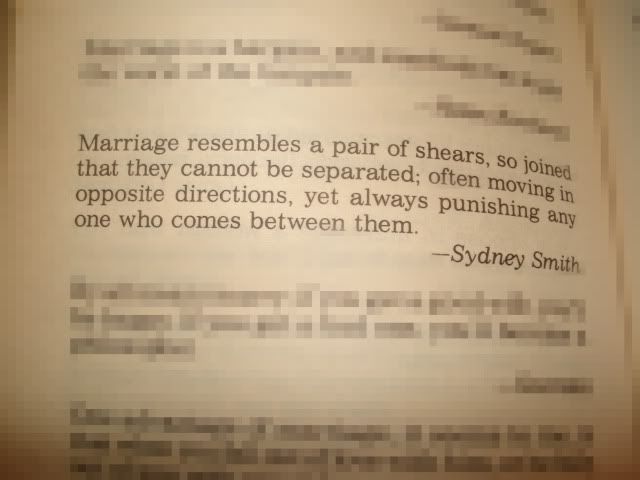 Marriage is what brought us togevah… this weekend. The room we stayed in was actually a super-secret library. Our bed was one of the awesome sort that actually are pulled down from the wall.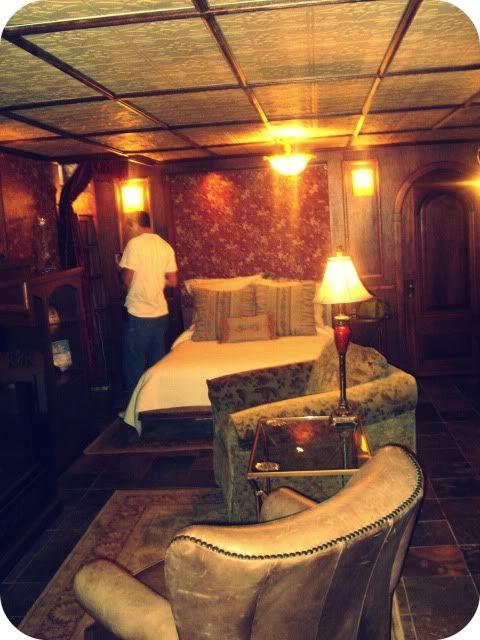 It was beyond cozy. I snagged "Julia & Julia" from the shelves and leafed through it, laughing at the Julia parts and rolling my eyes over the incessant use of the "F" word. Julie is a great writer, this is true. I enjoyed her style, but her personality? Not so much.
We ate dinner at The Cottage Place, and as we waited for our food, Danny remarked "This is our spot."
"Spot?" I said, plastering french bread with sweet cream butter with added chives and lemon zest.
"Yeah, you know… we have a place that's ours."


I didn't take many pictures on account of my already having a bazillion pictures of The Cottage Place. But we did stop to snap one picture just outside of the little nook they sat us in. Danny reserved a quiet corner where we could sit undisturbed.
That is, if you don't count the 30 minute conversation in the nook across the way held between to older couples about a game.
The more they drank the louder and more important the game conversation got.
"I wasn't laughing because I was winning… I was laughing because it was FUN!" That comment made everyone at their table roar. Good thing too, Danny and I were having a snickering roar of our own.
We'd spent part of the day at an antique store, something I love beyond most anything. My heart goes all a'flutter as I dig through old pictures and rusted kitchen tools.
Just as I was checking out, my eye caught sight of a necklace. It was marked down on account of the damage it had, and the owner told me if I bought it, she'd knock off $2.
It was a necklace from the 30's.
And now it's MY necklace from the 30's.


I've worn it every day since Friday. And I may or may not have slept in it last night.
Sadly, that was the only antique store we visited. My husband revealed to me that he didn't really like antique stores, and I revealed to him that I didn't really like the mall. Once we were open and honest with each other, we really didn't know what to do.
No shopping?
No sifting though dead people's stuff?
So we hit up tourist attractions instead.
We'd never experienced the ski lift in Flagstaff, so we bought some tickets and hopped on.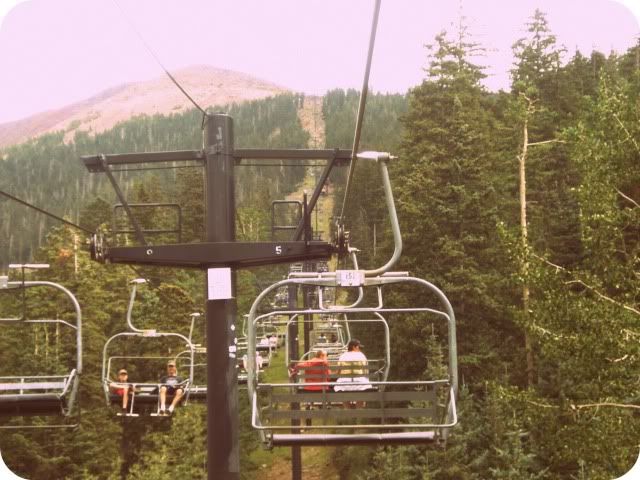 As I looked across the vast green country, I remarked how small it made me feel… how it changed my perspective… how I couldn't believe how amazing nature is… I looked over at my husband and found him spitting off the side of our chair, just to see how far his spit would fall.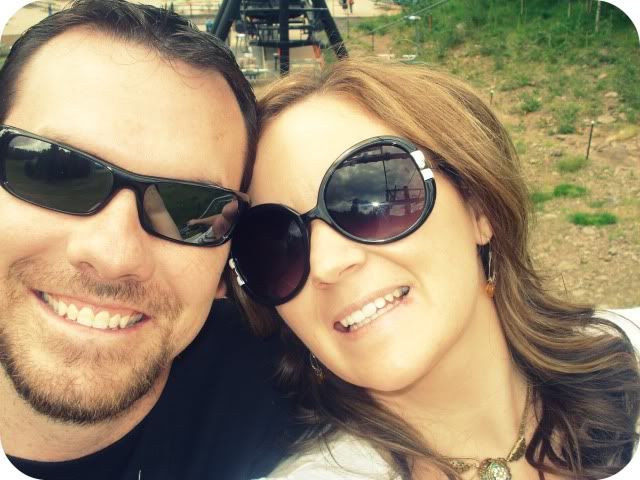 Boys…
We loved watching other people pass us on the lift. We even made light conversation with the bag o'trash that passed by: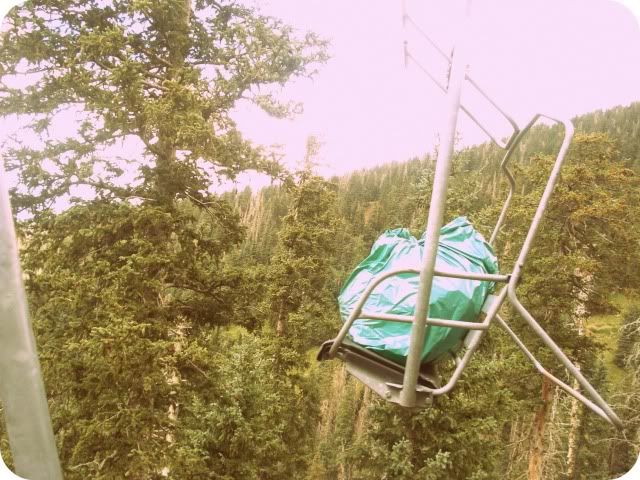 Once at the top of the mountain, we walked around and enjoyed the view. From where we stood, we could see Colorado on the horizon, a controlled wild fire near the Grand Canyon, a canyon to the South, and the highest toilet in Arizona.


QUITE an accomplishment.
Rain started pouring gently on us, and then hail started pelting us. We hunkered under a tree and waited it out, laughing as the rest of the crowd we'd come up with all flocked back to the ski lift. I still have no idea what they were planning on doing. Riding SLOWLY back down, completely unprotected from the pelting hail? I don't know. We were happy to sit under our sturdy tree and wait. We all know it only takes Arizona weather about 2 minutes to switch from rain to hail to sunshine.
I snapped a picture of Danny on the second highest mountain in Arizona (we were standing next to the first. If we tried to hike over to it, about 20 wooden signs threatened us with a $500 fine if we didn't STAY ON THE TRAIL).


Then he took the camera and snapped one of me. Ever since I bought my sunglasses, he's been calling me "Hollywood."
And just before snapping this picture, he called out "Hey, Hollywood!"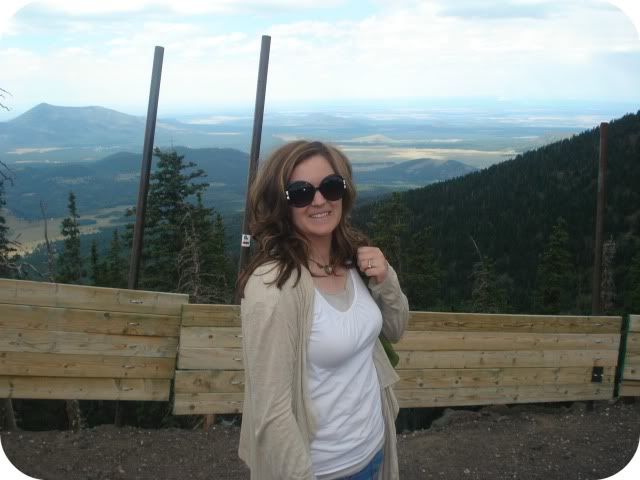 Oh, that man.
That night, we ate WAY too much at Olive Garden and then we walked around downtown in hopes of speeding up the digestion process.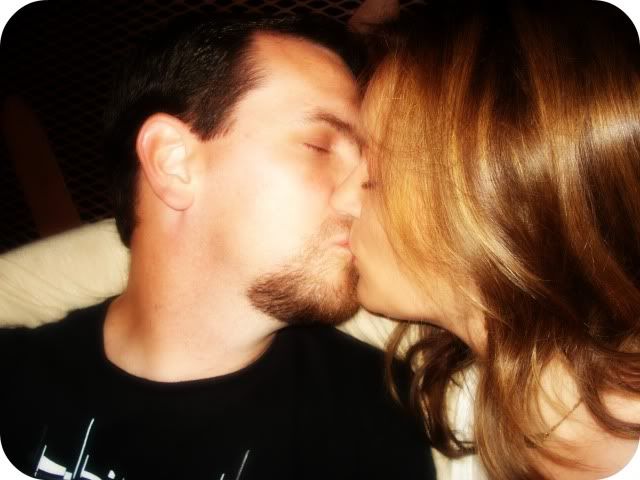 We sat on a bench to make out, publicly.
Then we called the kids to listen to them tell us all about their day.
Then we went and saw a late-night showing of "The Help."
YOU MUST GO SEE THAT MOVIE!

After the movie, we poured into bed. I slept like a log, and thank goodness! The night before, I couldn't sleep hardly at all.
Did I mention that we slept in a cellar-turned-library/room?
Did I mention that I drank a Dr. Pepper Friday afternoon?
Did I mention that I watched part of an episode of "Celebrity Ghost Stories" the night before?
All I can say is that lying in a dark cellar of an old, historic home WIDE AWAKE on account of caffeine after having watching ghost stories is the WORST! For the first time in my lift, I thanked Heavenly Father for my severe near-sightedness.
If there were any ghosts, I couldn't see them!
We came home Sunday after a wonderful breakfast of fruits and croissant sandwiches. The kids were happy and well-behaved. The house was clean and cool. We ate snacks and called it lunch, and then I took a four hour nap (!!!!). I was starving when I woke up and when I opened the fridge, I found a bowl full of fried zucchini.
My sister.
My sister is the best sister, babysitter, house keeper, and zucchini frier.
Now if you'll excuse me, my husband is home today and we're going to try and get a few somethings done while the sun shines.