I don't really know what happened today. One minute I was walking around like a regular girl, and the next I was elbow deep in wood glue, nails, and chicken wire.
I didn't PLAN on tearing into my bathroom today, but I did.
Because I didn't PLAN on tearing into my bathroom there are no before pictures.


But I will say this: It looks completely different. The dried roses are from a bouquet my husband gave me for Valentine's Day this year (aw!). Here's a secret: the rack on the wall is actually one from my fridge that doesn't fit. And I bought the frame a few years ago from Savers.
I made the topiary from book page rosettes.
In the middle of moving stuff around in my bathroom, I remembered that I had spray painted a picture frame white and left it outside. I went and got it.
I mod modged fabric to the back of it.
Then I put chicken wire where the glass should be. Thanks be to the stranger who happened to buy hay from my Dad behind my house and lent me his metal snippers.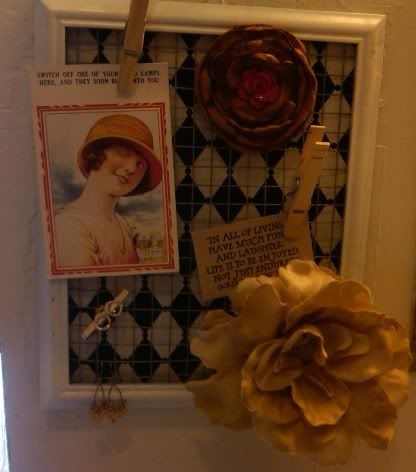 I'm rearry happy with how it turned out ESPECIALLY because now I finally have a place for my vintage post card I've had sitting on my dresser for a year.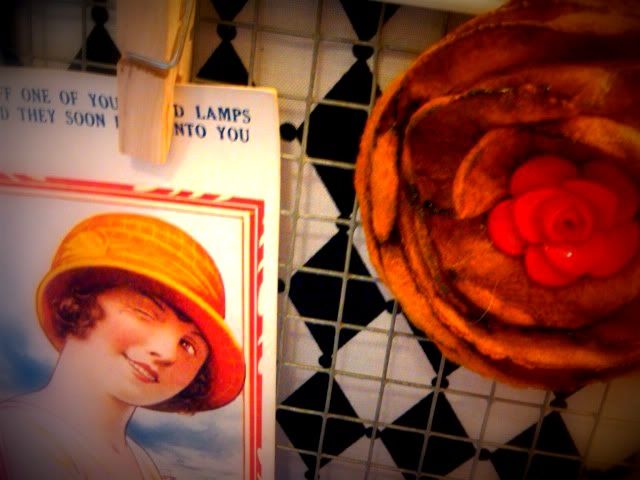 It needed something above it, so I went outside and started hunting for scrap… anything, really.
I found a beat up piece of wood that was too big.
Then I found a saw, so I cut it. I screwed some picture hanging supplies into it and added wire: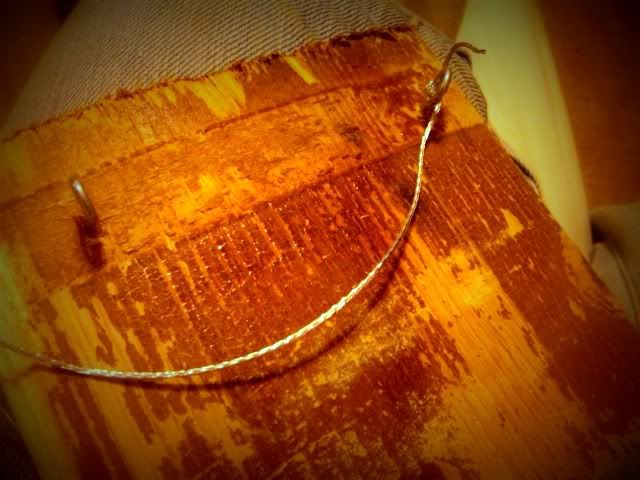 I put a jar in the wire and a picture hanger on the back to hang it on the wall: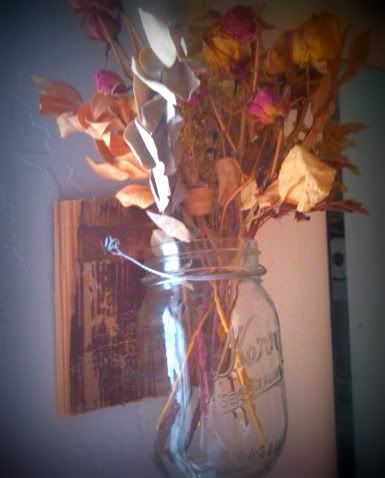 The dried bouquet that I put in it is the one my husband gave me after I gave birth to our first baby. I can't seem to part with it.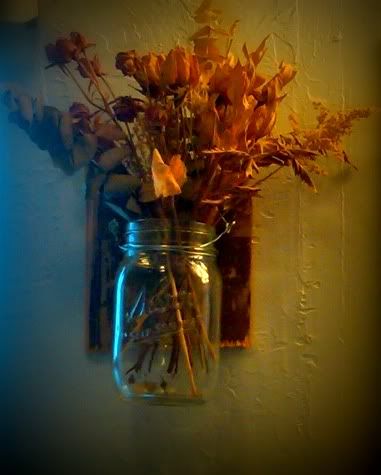 I've got about a thousand ideas rushing in and not enough energy left to go to it! But it's turning out great. My husband will be surprised when he comes home.
I imagine after texts all day like "where can I get a pipe clamp?" and "do we have a saw?" and "where's the wire cutters?" he's a little concerned.