This was a practice dish. I've been wanting to test it out to see if I wanted to make it for Easter morning. If I can get all my ducks in a row (they weren't in a row yesterday when I made this) then I definitely will be making it!
It's my Aunt Julie's recipe. She makes it on Christmas Eve and lets it bake Christmas morning while gifts are being opened. I asked her for the recipe and she emailed it to me.
Thanks, great Ju Ju!
You're going to need:
8 slices of hearty bread
2 C. of cheese
1 lb. bacon
1 lb sausage
8 eggs
1 1/2 C. milk
3/4 tsp. dry mustard
1 can Cream of Mushroom soup with 1/2 C. milk
Spray bottom of casserole pan (9×13) with non-stick spray. Lay the slices of bread on the bottom.


(I used homemade bread which was good. Store bought bread would work equally as well.)
Sprinkle the grated cheese on top of the bread.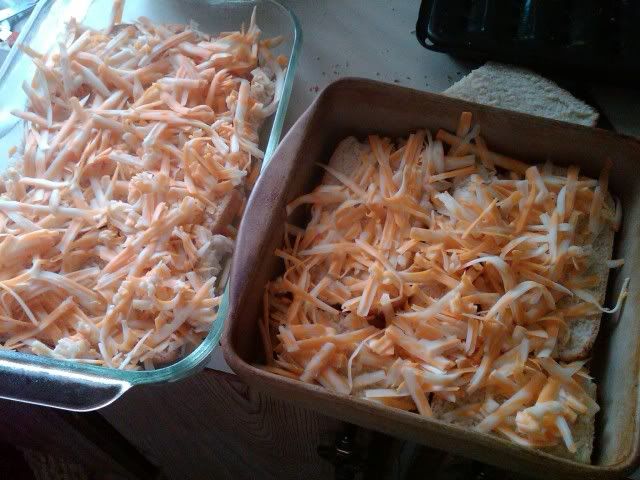 Cook bacon and sausage. Crumble them on top of the cheese.
In a separate bowl, beat the eggs, milk and dry mustard. (I added a pinch of cayenne pepper because I always add a pinch of cayenne pepper to my egg, milk, mustard mixes. No lie.)
Pour egg mixture over souffle. Cover; refrigerate overnight.
When ready to bake, mix the can of Cream of Mushroom soup with the 1/2 C. of milk. Pour it over the top of the souffle and bake it at 300 degrees for 1 hour and 45 minutes (until lightly browned on top).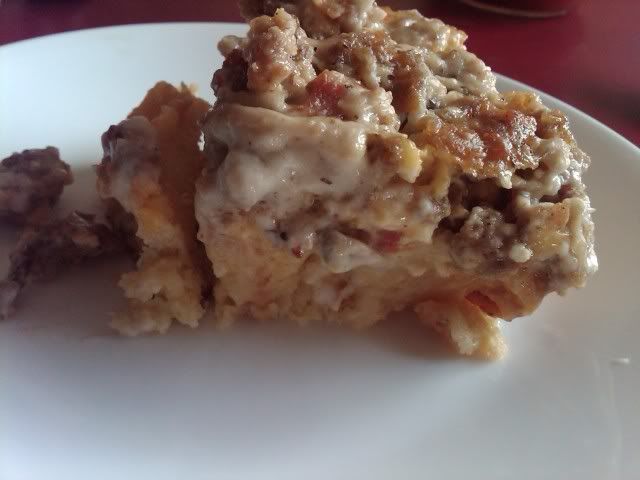 This is a special occasion breakfast for sure! If you make it every Sunday, the bacon factor may land you in the ER.


But oh SO worth it about once a year.