What better way to welcome in the fall season than to bake your dinner in a pumpkin?
Okay, I'm sure there's a million better ways but that's what I did because I like eating. I made up my two week menu and went to buy everything at the grocery store, but when I got to the grocery store I saw pumpkin pie pumpkins. Do you know the kind I'm talking about? the medium-sized ones that sell for about $1 a pound?

Anyway, when I saw them I thought of the recipe I had shoved in my recipe book: Dinner in a Pumpkin. I didn't know if I had all the stuff for it, but I decided to grab it anyway! Saturday night, I made it and it was yummy! It was filling and warm and my house smelled good. You can't go wrong with any of that.

I'm not complaining about the leftovers either.

You're going to need:

1 med. sized "pumpkin pie" pumpkin

1 lb.ground beef
a med. onion, chopped
1/4 C. Worcestershire sauce
1 C. water chestnuts, chopped
1 1/2 C. cooked rice
1 can cream of mushroom soup
1/4 C. milk
2 Tbsp. soy sauce
2 Tbsp brown sugar
Preheat oven to 350.

Cut off the top of the pumpkin and clean the insides out. Brown the meat with the onions, water chestnuts, and W. sauce. Meanwhile, cook rice. In a large bowl, mix the thoroughly cooked meat mixture, rice, soup, milk, soy sauce, and brown sugar. Spoon the mixture into the pumpkin. Replace the pumpkin's lid. Set the pumpkin on a cookie sheet (lined with foil!)



Bake for one hour at 350 degrees.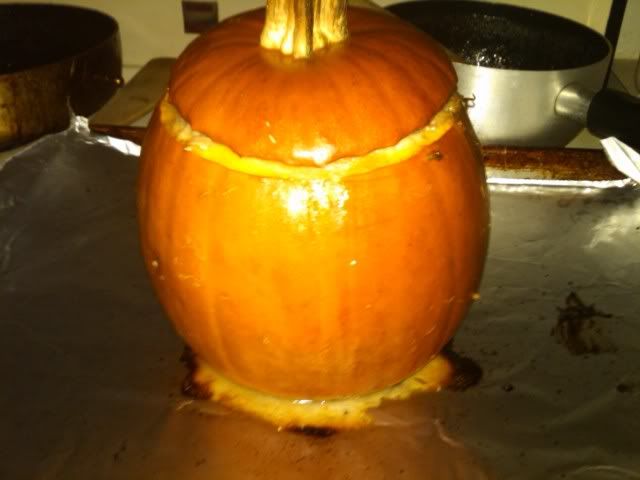 When you spoon it onto your plate, be sure to get a bunch of cooked pumpkin in the mix! It is so good!
I know there's probably about 1 million variations to this recipe, so have some fun with it! My sister-in-law cooks up some sausage and stuffing and puts that mixture into her pumpkins. I've never tried it… guess I'll just HAVE to pick up another pumpkin at the grocery store.